Full Day off-road Cycling Tour to Mount Kazbegi
Off Road Cycling Tour to
Mount Kazbegi Area ( 5 047 m)

Duration 10-11 hours
From May till middle of October
Mount Kazbegi, 5.047 m is the third highest mountain in Georgia on the Great Caucasus Range. Located 160 km North East from Tbilisi. Mount Kazbek is associated in Georgian folklore with Amirani, the Georgian version of Prometheus, who was chained on the mountain in punishment for having stolen fire from the gods and having given it to mortals
In this one-day cycling tour travelers will visit village Juta and amazing with its beautiful mountain range of Chaukhi. Starting cycling through Dariali gorge to village Stepantsminda, at the foot of mount Kazbegi.
On the slope of mount Kazbegi is located Gergeti Trinity Church (XIV c) at the altitude 2.175 m. This amazing small church attracts travelers for its wonderful location and amazing view on the top of mount Kazbegi and river Dariali gorge.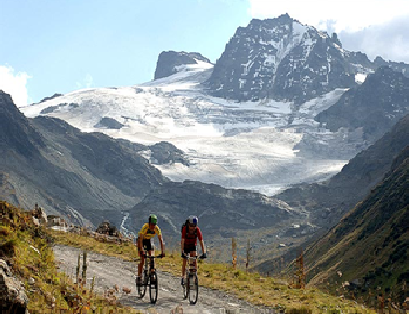 Highlights:
Mount Kazbegi (5.047 m)
Georgian Military Road
Ancient village Juta
Chaukhi mount range
Jinvali Lake
Ananuri Complex
Gudauri Ski Resort
Cross Pass
Gergeti Trinity Church
Recommended Equipment:
- Helmet
- Sunglasses
- Headwear
- Sunscreen lotion (SPF at least 30)
- Long-sleeved shirt
- Long pants
- Rain suit
- Daypack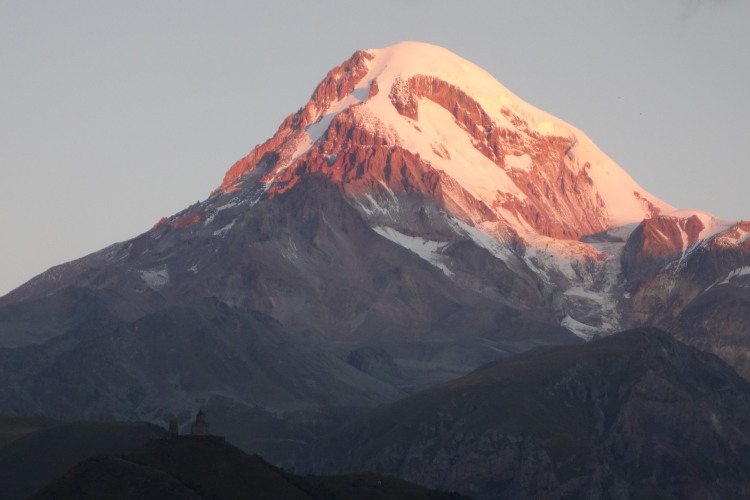 IThe Cycling Tour starts in the morning with departure from Tbilisi to the direction of mount Kazbegi through Georgian Military Road. On the road, there are many interesting places to visit.
&nbsp
The first destination in the cycling tour is Ananuri fortress (XVI C). The fortress is overlooking a large Jinvali lake. The characteristic architectural design of the late medieval period includes a fortress, two churches, an old watchtower, prison and civic buildings. The main church facade is beautifully carved with animal, floral and Celtic style patterns.
&nbsp
Next landmark on the way of cycling tour is skiing resort Gudauri that is located at 2200 m above the sea level. The resort offers high-quality opportunities to the guests. The ski season lasts from December till April.
&nbsp
Along the Georgian Military Road, there is located Cross Pass that is the highest point of the road. At an elevation of 2,196 m above the sea level. Here, 4WD car drives you up to village juta (25 km from Stepantsminda). Juta is remote high mountainous village (2200m) with views on gorgeous Chaukhi mountains (3842m highest peak).
&nbsp
In the Cycling Tour from the village starts biking with descending through river Sno valley surrounding by Great Caucasus range.
&nbsp
With your bike, the trail passes Old villages, towers, waterfalls. On the way to village Stepantsminda, there'll be remarkable view on mount Kazbegi (5.033 m).
&nbsp
The ride ends in Stepantsminda at the foot of mount Kazbegi. There you can choose either continue cycling up to the Gergeti Trinity church (XIV c) or drive up to the church by special 4 WD car (Optional). The ride contains 6 km challenge of cycling up to the altitude 2.300 m (difference in altitude 400 m).
&nbsp
Gergeti Trinity church(XIV C) is distinguished with its location and beautiful scenery around as it is erected on the southern slopes of Mt. Kazbegi. From the church, you can explore summit of Mount Kazbegi and enjoy wonderful panoramas on river Tergi and surrounding area. Here is the end of the Cycling Tour riding part.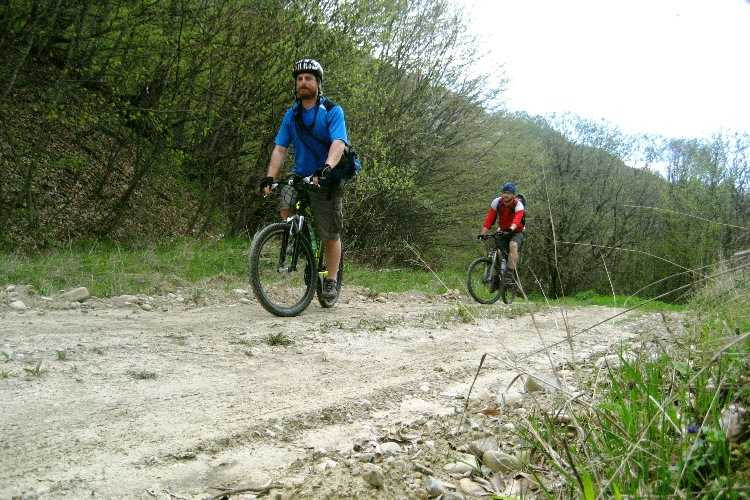 Duration: 10-11 hours
Driving distance: 350 km
Season: From May till middle of October
Difficulty: Moderate
Total ride distance: 35km
Max Altitude : 2379
Total Elevation: Positive : 400
Negative: 500
Obstacles : Challenging uphill to Gergeti
Road : Gravel
Vehicle support: Yes


What's Included in the Cycling Tour:
• Hotel pick-up and drop-off;
• Transportation In modern, air-conditioned coach;
• Petrol Costs;
• English speaking cycling guiding;
• Bicycle;
• Hiring of 4WD car for village Juta;
• Bottle of water per traveler.

What's Not Included in the Cycling Tour:
•Travel insurance;
•Other equipment for cycling;
• Meals and drinks;
•Tips for guide and driver.