Full Day Snowshoeing Tour to Mount Kazbegi
Full Day Kazbegi snowshoeing Tour from Tbilisi

December to March
Difficulty: Moderate

If you have one day free in Tbilisi and wish to experience powder snow for more excitement and fun on the hills of Great Caucasus mountains, one-day snowshoeing tour to mount Kazbegi area and amazing Gergeti Trinity church is for you! Magical colors of winter with unspoiled landscapes and snow-capped of Caucasus mountains surround to create a special atmosphere for an unforgettable trip. Colour Tour Georgia specialises in providing fully guided ski and snowshoeing tour in Georgia to explore the tranquility and serene beauty of winter hiking adventures through untouched snow.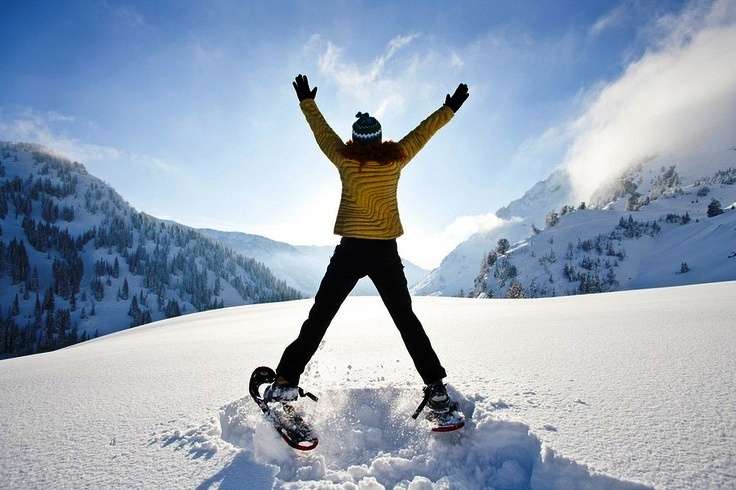 Highlights:
Mt. Kazbegi (5.047 m);
Gergeti Trinity church (XIV c);
Georgian Military Road;
Ananuri fortress (XVI c);
Jinvali Lake;
Gudauri ski resort;
Cross Pass (2.379 m).

Tour details:
Difficulty: moderate
Best Season: December-March
Total Elevations: 400-500 m
Total riding distance: 2-2.5 km, challenging uphill to Gergeti
Walking time: 3-4 hour
Total tour duration: 11-12 hours
Requirement: Warm and strong shoes are required
&nbsp
Recommended Equipment:
- Sunglasses
- Snow Gloves
- Sunscreen lotion (SPF at least 30)
- Snow suit
- Daypack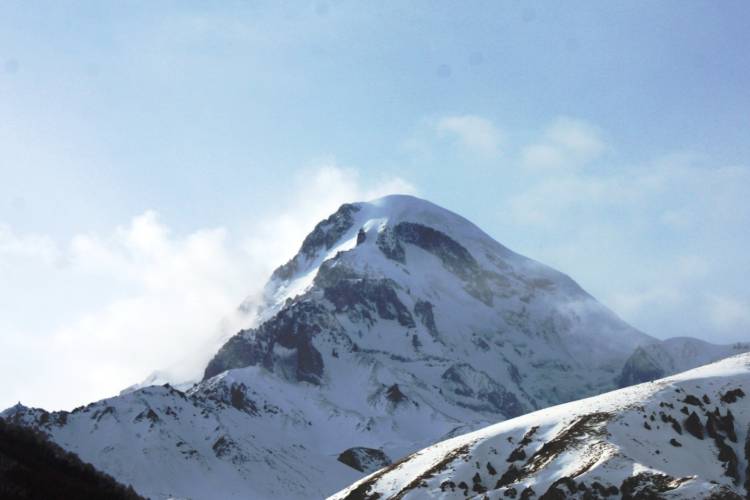 Snowshoeing Tour starts early in the morning with pick up at the hotel of your stay in Tbilisi. Head to the North of Tbilisi through Georgian Military Road. The road runs between Tbilisi (Georgia) and Vladikavkaz (Russia) and follows the traditional route used by traders and invaders throughout the ages. On the way to Mt.Kazbegi enjoy views on Ananuri fortress arises above Jinvali Lake and surrounding mountain area.
&nbsp
Farther on the Snowshoeing Tour, the road continues to Gudauri Skiing resort located 120 km north from Tbilisi at the height of 2,196 m (ab. 7,200 feet). Young and rapid developing winter resort is located on the southern slopes of The Greater Caucasus Mountain Range. Here one can reach the summit of mount Sadzele taking the aerial lift at the altitude of 3.000 m.
&nbsp
Just a few minutes driving one can reach Cross Pass, the highest point of the Georgian Military road (abt. 2.400 m). From Cross Pass with serpentine road arrive down to small village Stapantsminda at the foot of Mt. Kazbegi from where starts snowshoes tour to awesome Gergeti Trinity church.
&nbsp
Waking up to the church takes 1-2 hours experiencing winter hiking through the snowy forest up to the hills. The difference of altitude from Stepantsminda to Gergeti Trinity church is 400 m.
&nbsp
Reach the main highlight of the day, Gergeti Trinity church 2170m (XIV c) that overlooks area proudly as a steady symbol of Georgia and enjoy with stunning views in a fabulous atmosphere. Due to your wish and possibility, it's available to prolong your trip after covering the main area and examine your opportunities beyond.
&nbsp
Aftrewards in Snowshoeing Tour, by the church as an award, the guests have a warm cafe with a light snack with hot drinks overlooking at river Tergi gorge and village Gergeti covered with deep snow.
&nbsp
After the trip, the car of the company takes you back to Tbilisi. On the way back, due to your wish short stop at Ananuri Fortress. (XVI-XVII c).
&nbsp
Please note, in case of low snow condition at the foot of mount Kazbegi, the snowshoeing ride will be moved from Stepantsminda to Gudauri area. But visit of Gergeti Trinity Church in Stapantsminda is included into the tour package.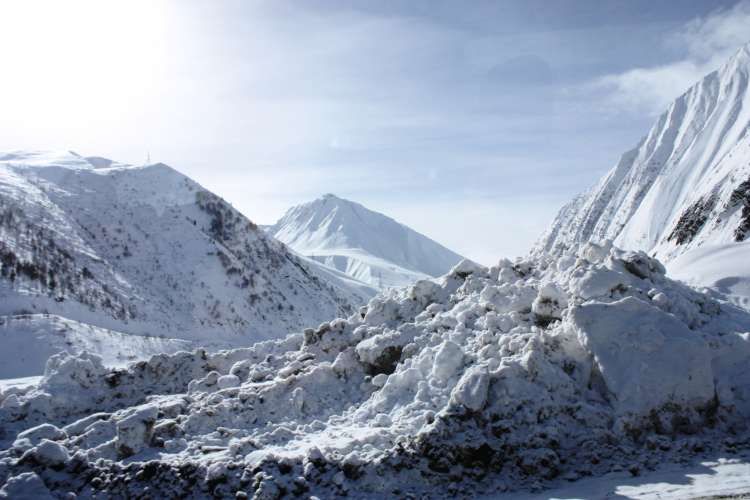 Duration of tour 10-12 hours
&nbsp
Services included in the Snowshoeing Tour package:
• Pick up and drop off at the hotel of your stay in Tbilisi;
• Renting of the equipment for touring;
• Qualified mountain guiding service;
• Petrol costs;
• Lunch boxes;
• A bottle of water per guest.
&nbsp
Services NOT included in the Snowshoeing Tour tour package:
• Travel insurance;
• Tips for guide and driver.